#2081 Jan 5, 2022
The Road Back To Playing
In March 2020, the committee had no choice but to do what everyone else had no choice but to do – cancel all of its events for the year due to Covid-19. For CBCA, that meant no Art & Wine (what would have been our 25th), no BBQ Cook-Off, no Oktoberfest, no Desert with Mrs. Claus, nada.
We asked our 70 teams, whose $400 team fees had long been collected, to roll over their fees until 2021, with everyone keeping their slots. We were gratified that 96% of the teams agreed to do this.
As a tumultuous 2020 slowly gave way to an uncertain 2021, we hoped that CBCA could at least bring back even limited bocce (and even if we all had to wear masks and be 6-ft apart). Toward that end of reading the tea leaves, and with public health guidance providing some path for outdoor activities, the committee began in earnest to plan for what we hoped would be a full tilt of league play. We advised the Spring League teams that we would be making plans to play. We gave an option to any team that felt it was not ready to resume to 'opt out' of this season (and retaining the spot for 2022).
We planned to begin the season limiting match attendance to rostered players only, everyone wearing masks, and keeping your distance. We needed to demonstrate that bocce could be played consistent with public health guidelines. The biggest proposed change involved one person, per team, per end. This was to accommodate the then current public health guidance that the balls needed to be cleaned before another player touched them. We ran this proposal up the flagpole with several teams and the reaction was unanimous: the one player per team per end rule is stupid, but if that is the only way we can play, we will play.
Then, the week before the season was scheduled to start, we caught a break. The CDC changed its guidance to make mask wearing optional for fully vaccinated players. The governor announced immediately that California would follow suit. By this time the one player per end rule was eclipsed when the state removed the shared equipment cleaning requirement. After a vigorous debate, the committee voted that we were not going to be the vaccination and mask police – checking everyone's cards before they could play. We decided we were going to trust our players because they knew the stakes for everyone if bocce became a super-spreader venue.
The Spring League
The 70-team Spring League opened on May 2, about six weeks behind our usual schedule. We compressed the schedule by playing some Sunday and Monday matches on Saturdays. These made up for Sunday and Monday holidays. This was done in hopes of being able to get in a full 70-team Summer League and an on-schedule 40-team Fall League.
It was a real shot in the arm for the community to see bocce being played again. People downtown again five nights a week and twice on Sunday. Friends and neighbors getting back together again. It was a festive atmosphere each night as people realized how much they missed bocce. Court rentals and open free play soon returned, and we were later able to hold our 5th Skip Ipsen Memorial Bocce Tournament on October 8.
The regular season ran from May 2 through July 23, 2021. Single elimination playoffs commenced on July 25 and finished with the championship match on July 31.
There is nothing like playoff bocce. Thirty-two teams, single elimination. Upsets galore. Round 1 saw seven upsets (lower seed beating higher seed) including the 29th seed beating the 4th seed (in consideration of those whose loss still stings, we won't repeat names here). At the end of the tournament though, the semifinals featured three former champions (Xvengers, Chewbocce, Breaking Bocce) and one new entrant (Will Bocce For Fireball) squaring off on a beautiful Saturday, July 31. In the end, Chewbocce could not stop the Xvengers, who capped off a 25-2 regular season by running the table in the playoffs. Will Bocce For Fireball finished 3rd and earned their first league medal.
In a soon to be forgotten historical footnote: we typically order the medals in January each year, and we had already ordered and received the 2020 medals well before we cancelled the 2020 seasons. So, all medal teams in 2021 received 2020 medals.
For more details about the Spring League, including team photos of the winners, click here.
The Summer League
Having successfully completed the 2020 Spring League by July 2021, we proceeded immediately to the 2021 Summer League. Public health guidance had settled down, and we could proceed with a pretty normal season. We offered the same opt out options for existing Summer League teams (no loss of space for 2022). A few teams chose to opt out and their spots were filled within a few days. The season started on Sunday, August 1 (about two weeks behind compared to a normal year).
The Summer League was anything but normal. Matches were canceled due to heat, smoke/air quality, power outages, and, at the end, a lot of rain. We made-up our way through all of it (and having to extend the season by a couple of weeks into November) and were ready for what turned out to be a bizarre playoff tournament.
The regular season was originally scheduled to run from August 1 through October 22, 2021. Due to cancellations and make-up matches, the end date was exteneded to October 30. Single elimination playoffs commenced on November 2 and finished with the championship match on November 13.
There was a mad scramble for the four wild card slots, which was not settled until the final regular season matches (a make-up, of course). Lest anyone think that the wild card teams (seeded 29-32, respectively) are just playoff fodder for the top four seeds – talk to the Meadow Maulers. This Sunday 6:30 team is an original Newhall team (remember, the Clayton Bocce League started at Newhall Park in 2002) making one of their very few playoff visits. They were the No. 31 seed.
The Meadow Maulers caught a big Round 1 break when the No. 2 seeded team had to forfeit due to scheduling. They then proceeded to beat the 15th seeded team in the 2nd round, and the 10th seeded team in the 3rd round (to become the lowest seeded team to ever make the semifinals). Joining the Meadow Maulers in the playoffs were three former league champions (Xvengers, Block Party, and Ed's Mudville Grill, seeded 3rd, 4th, and 9th, respectively). Clearly not afraid of their surroundings, the Meadow Maulers stunned the Xvengers in the semifinals. That earned them a championship match against Block Party (also the defending 2019 Fall League champion). The Meadow Maulers finally ran out of gas in game 1, when Block Party came from behind to grab a 13-11 win, then closed matters out with a 12-5 win in game 2 to claim their 2nd league championship.
For more details about the Summer League, including team photos of the winners, click here.
Electronic Scoring
2021 saw the introduction of electronic scoring. Teams are now able to keep real time scores of games. Our new, glare-free electronic scoreboards, also installed in 2021, update scores automatically. We also introduced player statistics (available on each team's schedule page) that keep track of wins, frames, points, and casinos. More advanced analytics are in the works. Hits, runs, RBIs, touchdowns, 3-point scoring, WAR, are now irrelevant. Bocce analytics is here to stay. Let the arguments begin!
Facilities
We want to give a special thanks to the two members of our committee who have the most responsibility for caring for the courts and grounds: Rod Overstreet and our groomer, Brent Dawson. You would not need all the fingers on one hand to count the number of days Brent has missed since the courts opened in 2014. While Brent is paid to groom the courts, he goes over and above to take care of them. When we told Brent in 2020 that we had to suspend paying him given that CBCA had no money coming in, he not only agreed but assured us that he would continue to take care of his courts while we all tried to navigate our way through Covid-19. He continued to groom the courts throughout the lost year of 2020.
That our facility is well maintained and always presentable is through Rod's management. Nothing of consequence happens to those grounds without Rod's input and usual oversight (which often includes doing the job himself). That the arbors and fencing and landscaping look good and are on a regular maintenance schedule is primarily through the efforts of Rod and Brent (with the occasional help of several of our players who answer the call for landscaping assistance). That our paving project was completed on time and on budget was Rod's daily presence making sure people did their work the right way.
Thank You
The CBCA, and the Bocce Committee, are grateful to all of our players for their dedication, camaraderie, and sportsmanship in making bocce a staple of the Clayton community for the last seven years, and many more to come. We also want to give our ongoing thanks to the CBCA. 2020 was a tough year for CBCA because our life blood is raising money through our iconic festivals and we could not do any of that. We also give our ongoing thanks to Kent and Yvette Ipsen, who have given us unwavering support in operating and managing these courts in memory of Skip Ipsen.
Thank You!
CBCA Bocce Committee
Ed Hartley (chairman)
Brent Dawson
Cecilia Hartley
Keith Haydon
Jim Lawrence
Dennis Mitchell
Becky Overstreet
Rod Overstreet
Lisa York
In Memory of Clayton Perry (1/23/1971-11/28/2021)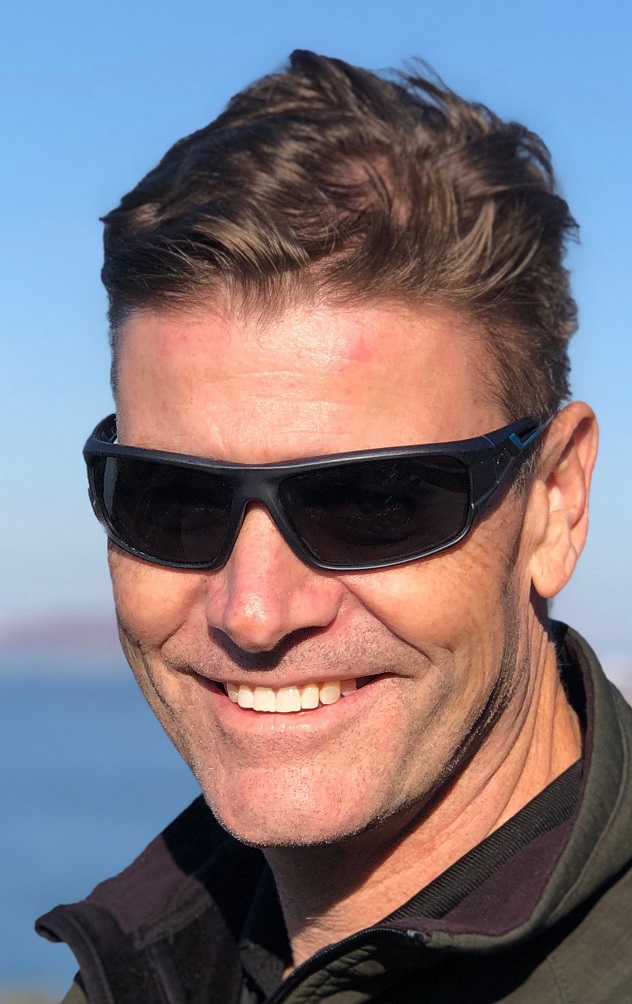 While our bocce community was glad to be back playing again in 2021, our 2021 ends on a sad note with the crushing loss of one of our great friends. Clayton Perry was a general manager of Skipolini's Pizza, who began working there when he was a kid. He lost his valiant battle with pancreatic cancer on November 28. He was 50 years old.
Whenever Clayton was working in Clayton during the season, he would visit the courts and chat up anyone and everyone. He bought many a beer and wine for players. Clayton deserves special credit for testing our alarm system more than a few times by playing bocce after 1:00 a.m. When we shut down the courts for a month in 2018 to put in pavers, Clayton had the brilliant idea of forming a cornhole league on the patio to give displaced bocce players a place to play something and hang out with friends, beer, wine, and food. It was great fun.
Despite what issues he and his family went through this year, the league is gratified that Clayton wanted to spend part of what turned out to be his final summer playing bocce. His Brentwood Huskers played in the Summer League at 6:30 p.m. on Sundays. He played his last game on October 3.
Our condolences go out to Clayton's family and his many, many friends.